IANS, London, Modified: May 31, 2013 14:14 IST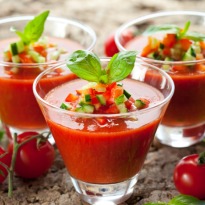 A regular bowl of gazpacho soup, made up of a range of superfoods including tomato, cucumber, garlic and olive oil, could be the key to beating high blood pressure, a research has found.

Experts found that even though the cold Spanish dish contains salt, which people with high blood pressure are told to avoid, those having it regularly saw their BP levels drop, Daily Express reported.

The soup, the experts believe, could be used to help prevent the condition, reducing the risk of developing hypertension by as much as 27 percent.

The latest findings - by scientists at the University of Barcelona and published in the journal Nutrition, Metabolism & Cardiovascular Diseases - have major implications for millions of Britons blighted by ill health due to high blood pressure.

The research, into the effects of a Mediterranean diet on people at high risk of cardiovascular diseases, looked at 3,995 people taking gazpacho.
Other Links:

Mindful Meditation Helps Lower Blood Pressure

Egg white component lowers blood pressure

Cut salt intake, exercise to avoid high BP

Eating Lean Beef Daily Can Help Lower Blood Pressure

Where do you find the grubbiest germs in restaurants?

5 Recipes Without a Drop of Oil!

When Will They Find a Cancer Cure, Doc? | Ranjana Srivastava

Nigel Slater's spring soup recipes

Nestle products to soon have less salt

For the latest food news and recipes, like us on Facebook or follow us on Twitter and get the NDTV Cooks app for Android or iOS.