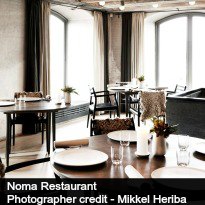 Here's a cue to update your to-do list - The World's 50 Best Restaurants list is out! After Asia's 50 Best Restaurants, everyone was waiting for the big one. Probably the most common question asked is, "how does a restaurant make it to the list?" To which the Academy replies, "the list is the result of a poll of 936 industry experts, each whom casts 7 votes for what they consider to be the best restaurants at which they have dined in the previous 18 months."

While this list is welcomed by the majority in the culinary world, to others it's nothing more than a list of predictable winners that leaves a lot of questions unanswered.

The Complete List -

50. Waku Ghin - Singapore
Private and personal dining at the landmark Marina Bay Sands

49. Coi - San Francisco, USA
Precise cooking and clean flavours bring the best out of California

48. The Test Kitchen - Cape Town, South Africa
Exceptional flair and gutsy innovation produce eclectic brilliance

The Test Kitchen has also won the Best Restaurant in Africa

47. The Fat Duck - Bray, UK
Whizz-bang cuisine from an acclaimed cooking genius

46. Le Calandre - Rubano, Italy
Unpretentious but sophisticated Italian cooking

45. Hof Van Cleve - Kruishoutem, Belgium
Belgian's food champion continues to inspire

44. The French Laundry - Yountville, USA
Keller's gastronomic Mecca in the heart of Napa Valley

43. Schloss Schauenstein - Fürstenau, Switzerland
Switzerland's star chef holds court in a breathtaking location

42. Geranium - Copenhagen, Denmark
Bocuse d'Or cooking competition winning chef remains at the forefront of new Nordic cuisine

41. Quique Dacosta - Dénia, Spain
Minimalist, high impact plates in Alicante

40. Daniel - New York, USA
Daniel Boulud's flagship New York restaurant continues to shine

39. Piazza Duomo - Alba, Italy
Extraordinary produce meets modern techniques in Piedmont

38. L'Astrance - Paris, France
Tailor-made 'fusion' French cooking a snail's toss from the Eiffel Tower

37. Restaurant André - Singapore
André Chiang brings philosophical food to life

36. Mani - São Paulo, Brazil
Modern, feminine Brazilian cooking in Jardim Paulistano

35. Martín Berasategui - San Sebastián, Spain
Basque elegance mixed with delicate avant-garde cooking

34. Asador Etxebarri - Atxondo, Spain
Olfactory cooking from the wood-grill maestro

33. Nihonryori RyuGin - Tokyo, Japan
Exquisite food pushing Japanese tradition forward

32. Attica - Melbourne, Australia
A deep connection with nature characterises Ben Shewry's unusual food

Attica has also won the Best Restaurant in Australasia

31. L'Atelier SG de Joël Robuchon - Paris, France
Luxury small-plate dining goes from strength to strength

30. Per Se - New York, USA
Understated luxury coupled with outstanding contemporary French cooking in NYC

29. De Librije - Zwolle, Netherlands
Personal terroir cooking with global elements

28. Aqua - Wolfsburg, Germany
Highly technical Germanic cooking in an unlikely setting

27. Le Chateaubriand - Paris, France
Democratic and gutsy Parisian bistro led by inimitable Inaki

26. Azurmendi - Larrabetzu, Spain
Pioneering cookery techniques and restaurant design in rural Basque landscape

25. L'Arpège - Paris, France
A true temple of French cuisine that puts garden produce centre-stage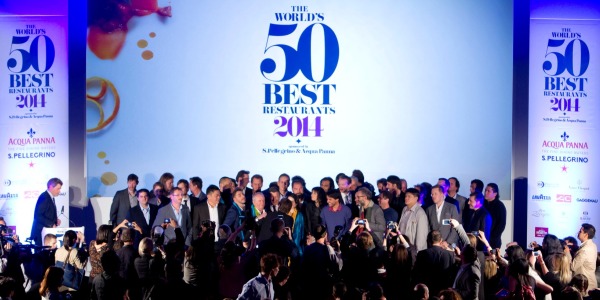 Photo credit: The World's 50 Best Restaurants 2014, sponsored by S.Pellegrino & Acqua Panna



24. Amber - Hong Kong, China
East meets west in fundamentally French cuisine
23. Restaurant Frantzén - Stockholm, Sweden
Skilful and surprising Scandi cooking
22. Vila Joya - Albufeira, Portugal
Accomplished Austrian chef puts Portugal on the fine-dining map
21. Le Bernardin - New York, USA
Elegance and refinement result in sublime seafood dishes
20. Pujol - Mexico City, Mexico
Ancient recipes are reinvented to move Mexican gastronomy into the 21st century
19. Fäviken - Järpen, Sweden
True hospitality in an inhospitable environment
18. Astrid y Gastón - Lima, Peru
After 20 years, Acurio's flagship reinvents itself in fresh location
17. Gaggan - Bangkok, Thailand
Indian food reinvented with modernist techniques
16. Steirereck - Vienna, Austria
Cutting-edge cooking rooted in the Austrian landscape
15. Central - Lima, Peru
All about the details
14. Narisawa - Tokyo, Japan
Japan's leading restaurant celebrates nature with an added dash of drama
13. Nahm - Bangkok, Thailand
Stellar Thai cooking drawing on ancient traditional examples
Nahm has also won the Best Restaurant in Asia
12. Vendôme - Bergisch Gladbach, Germany
A modern master recreates the best of German cuisine

11. Mirazur - Menton, France
Delicate produce-led cooking near the Franco-Italian border

10. The Ledbury - London, UK
Brett Graham's understated west London restaurant breaks into the top 10
9. Alinea - Chicago, USA
Modernist techniques and artistry come together to astonishing effect
8. Arzak - San Sebastián, Spain
Bold and difficult-to-pigeonhole cooking from old (and new) Basque masters

7. D.O.M - São Paulo, Brazil
Ambitious, research-led Amazonian cooking
D.O.M has also won the Best Restaurant in South America
6. Mugaritz - San Sebastián, Spain
Where all is not what it seems

5. Dinner by Heston Blumenthal - London, UK
British culinary history inspires big-flavoured dishes
4. Eleven Madison Park - New York, USA
Chef Daniel Humm's menu is the antidote to humdrum
Eleven Madison Park has also won the Best Restaurant in North America
3. Osteria Francescana - Modena, Italy
The past and the future meld in artful fashion

2. El Celler de Can Roca - Girona, Spain
The complementary skills of the Roca brothers results in hospitality at its finest
1. Noma - Copenhagen, Denmark
Mould-breaking Nordic food that takes nature's bounty to new levels
Noma has also won the Best Restaurant in Europe
Other Awards
The Diners Club® Lifetime Achievement Award 2014
Fergus Henderson, St John, London, UK
The Veuve Clicquot World's Best Female Chef 2014
Helena Rizzo - Mani, São Paulo, Brazil
The World's Best Pastry Chef Award 2014
Jordi Roca - El Celler de Can Roca, Girona, Spain
Chefs' Choice Award 2014
Alex Atala, D.O.M., São Paulo, Brazil
One To Watch Award 2014
Saison - San Francisco, USA
Sustainable Restaurant Award 2014
Azurmendi - Larrabetzu, Bizkaia, Spain
Highest New Entry Award
Gaggan - Bangkok, Thailand
Highest Climber Award
Central - Lima, Peru
© All photos and information - The World's 50 Best Restaurants sponsored by S.Pellegrino & Acqua Panna
Other Links:
Tihar Food Court: Kesar Lassi & Dahi Bhallas Are a Hit
When one kitchen isn't enough
Restaurant Recipes - The Imperial Hotel, New Delhi
Restaurant critic: your dream job or your worst nightmare?
Indonesia questions why cafe has Nazi-themed decor
Restaurant offer: Turn off your cellphone, get 50 percent discount
No tipping required: In a new trend, restaurants forgo tips
Who wants to eat in the world's smallest restaurant? Not me
Restaurant pet hates: 11 ways to ruin my appetite
Food with a story to tell
For the latest food news and recipes, like us on Facebook or follow us on Twitter and get the NDTV Cooks app for Android or iOS.