What kind of numbers does the rush translate into, I ask Kallatra, who shrugs, "Naseer is the right person to answer that question as he is the one who runs the show. I travel frequently but Naseer is completely involved in the daily activities." When I repeat my question to Naseer, the bemused 54 year-old turns to his partner, mumbles something and then tells me, "Ek aadmi chaar chaar baar aata -- subah, dopahar, chai peene ke vaaste aur raat ko, hum kaise bolega! (Each customer comes at least four times a day -- for breakfast, lunch, tea and dinner. It's difficult to give you an exact number.) But as I prod him, he adds that it amounts to approximately 500 customers daily.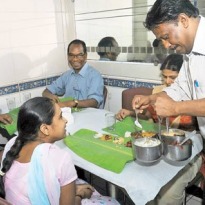 Innovation is Key
The restaurant, which is open from 7.30 am to 11.30, has a staff of 40 and offers over 90 dishes on its menu. Head chef K Prakash, who is employed with Hotel Deluxe since 14 years, has been constantly innovating keeping the customer's demands in mind. Kallatra explains that the eatery serves special thalis on Sundays that are lapped up by Malayalis travelling from far-flung suburbs like Borivli and Vasai.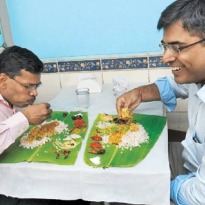 "This year we introduced Vishu Sadya, (a feast) to celebrate our harvest festival Vishu, for the first time," he adds. Over a period of time, they also started taking huge party orders from corporate houses. This, 15 years after they started serving Chinese as well as other vegetarian specialties like Paneer Mutter and Aloo Gobi.
The eatery, which counts Karimeen Fry, Kakka and Kallummakaya among its non-veg specialties, gets fresh produce every day. While the fish is imported on a daily basis from Kerala, Naseer handpicks the vegetables from Matunga market and the spices and chicken from Null Bazaar.
And where there is authentic food, can loyalists, no matter how famous, be far behind? Athlete P T Usha, chief secretary of Maharashtra Johny Joseph, BCCI secretary S K Nair and almost all MPs and MLAs from Kerala have frequented Hotel Deluxe, informs a proud Kallatra. "When we started the business, we didn't know anything.
But over the years, we learnt how to maintain customer relations, cater to their demands and serve quality food. We have never publicised ourselves. Today, we owe our success to word-of-mouth publicity." Half an hour into our conversation, two office goers, who frequent the place often, make their way into the restaurant and order their usual fare -- The Veg Thali and Karimeen Fry, attesting to the fact that Hotel Deluxe runs solely on the strength of its food.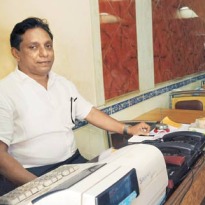 Acquiring a Veg Vocabulary
While Kallatra likes the seafood served at Hotel Deluxe, Naseer prefers the Veg Thali. He tells me nonchalantly, "After all, that is the staple food of Kerala." The duo has plans to expand their restaurant franchise to the western suburbs in the near future. As we wrap up the interview, Naseer tells me that I must taste the Veg Thali.
Soon, he issues orders to his men, who promptly serve a banana leaf and line it up with two types of pickle, four kinds of sabzi and a mountain of rice that is topped with dal and sambhar. Rasam and payasam, served in small plastic cups, complete the meal. As I take a morsel of rice, the subtle flavours of the sambhar and sabzis coat my taste buds.
Soon, I start enjoying the meal, which is quite an achievement for someone who is a self-confessed hardcore non-vegetarian. As my meal comes to an end, I realise that Hotel Deluxe's success lies it in its simple food that has nuanced flavours and is extremely light on the stomach.
After a hearty lunch, I bid adieu to Naseer and Kallatra, who get back to work immediately. While Naseer starts issuing orders to his staff, Kallatra gets back to discussing the renovation. Clearly, it's just another day of business for them.