IANS, New Delhi, Modified: May 23, 2014 13:36 IST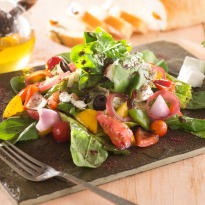 There are multiple options at home that can make your meal wholesome and complete without compromising on taste, says an expert.

Rohan Arora, founder and CEO of Bueno Foods Pvt. Ltd. (food outlet in Gurgaon that provides healthy food options) shares names of some of the healthy ingredients that can be used at home:

- Low fat cottage cheese prepared at home instead of the packed and processed ones that we get in the market.

- No tinned fruits and vegetables.

- Whole wheat with extra fiber instead of white flour (maida).

- Fresh herbs like basil, thyme, rosemary, garlic, oregano (dried), coriander, mint, parsley and freshly ground and whole spices like cinnamon, cardamom, chilli flakes and chillies instead of the crushed processed ones.

- Honey, brown sugar and jaggery instead of packed white crystal sugar.




Other Links:

Whole grain food not always healthy

FDA: Honey with any added sweeteners isn't honey

What makes whole wheat bread so appetizing?

Sugar: a guide to the sweet stuff in all its forms

Top 10 Veg Recipes Under 30 Minutes!

Sale of adulterated food hits right to life, says SC

Before Soylent: a brief history of food replacements

World Health Day: Top 10 health-related concerns

Rise of frozen meals & microwave cooking in France as lawmakers try to protect their cuisine

For the latest food news and recipes, like us on Facebook or follow us on Twitter and get the NDTV Cooks app for Android or iOS.