IANS, London, Modified: October 19, 2012 09:47 IST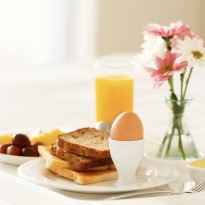 Those who skip breakfast to lose weight not only eat more for lunch, they also crave fatty and sugary foods, researchers say.

Over time, this could lead to slimmers piling on the pounds, despite their best intentions, the Daily Mail reported Tuesday.

The warning comes from doctors and scientists at Imperial College London who scanned the brains of 21 healthy young men and women while they looked at pictures of various foods.

The volunteers also rated how appealing they found the foods, which ranged from salads and vegetables to calorie-laden chocolates, desserts, cakes, pizzas and burgers.
Other Links:

To shed more fat, exercise before breakfast

4 Health Benefits of Drinking Tea

Obesity Can Lead to Fatigue & Inefficiency: Study

Breakfast: delicious for lunch and dinner

This Mother's Day, don't forget breakfast in bed

Breakfast: too early for culinary innovation?

Skipping breakfast increases heart attack risk

10 Best Breakfast Recipes

10 Best Healthy Breakfast Recipes

For the latest food news and recipes, like us on Facebook or follow us on Twitter and get the NDTV Cooks app for Android or iOS.