IANS, Kolkata, Modified: February 05, 2013 11:53 IST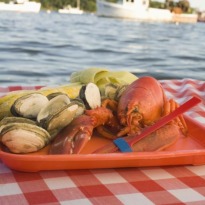 Let the nutty flavours of squid meat, the juicy sink-your-teeth-in flesh of prawns, the delicate texture of sweet crab meat and the creamy texture of octopus assail your senses. Fish is no longer the only aquatic offering that will satisfy the palate of the Kolkata foodie.

The capital of West Bengal, famed for the Bengali's incessant hunt for fish - rohu, pomfret, bekti, hilsa - is now a simmering wok brimming with options ranging from grilled, roasted, baked and curried platters of seafood comprising prawns, squids, octopus and crab.

"West Bengal is known for its love of fish. Earlier it was limited to pomfret, bekti or hilsa but now with globalisation, everybody is opening up to try varieties of seafood, not just Bengalis," chef Prasanta Kumar Dey of Ocean Grill told IANS.

Trying to carve a niche for itself in the community of seafood enthusiasts with its array of grilled continental fare, Ocean Grill dishes out mouth-watering delights - like grilled fish (bhekti/sole) marinated with mixed herbs cooked in lemon butter sauce and grilled crab cooked with spices and red wine - that blend liberal amounts of wine with herbs like rosemary, thyme and oregano among others.

"Grilled food is one of the healthiest options and our guests are well informed. There is a very low quantity of oil used - olive oil mainly - and because the fish is marinated in spices and herbs, the meat remains soft even after it is grilled," added Dey.

However their speciality is the mixed grilled seafood platter that is a sumptuous and filling mash-up of assorted morsels of crab, prawn, and bekti.

"The pieces are marinated in continental herbs and wine, grilled and served with continental spicy herb sauce. The spices are not overpowering and the flavours on the whole are subtle. It is nutritious as well as tasty and filling," said Dey.

After a course of continental seafood, the rustic seafood repertoire of Italy's pastoral Tuscany comes to the city with dollops of cheese, drips of wine, and hint of basil topped with the classic sun-dried cherry tomatoes at the restaurant Casa Toscana.

Serving quintessential recipes from the region like 'Seafood Saffron Risotto' (saffron infused rice with assorted seafood) and 'Pan Seared Sea Bass' (a staple fish dish), the restaurant offers a unique twist to the Italian phenomenon known as pizza - the 'Pizza Ai Frutti De Mare' or one featuring the toppings of "fruits of the sea".

"The pizza dough is hand-made and baked with octopus pieces, calamari or squid, and prawns. Cherry tomatoes (small tomatoes) and basil (the Indian tulsi) are added to impart the characteristic aroma and flavour," a representative of Casa Toscana told IANS.

Besides the pizza, Casa Toscana also doles out a spin-off of the bekti called 'Kolkata Bhekti' that contains fish cooked with fennel (saunf), confit potatoes (pre-seasoned potatoes) and lime, butter, red pepper and tomato sauce.

The iconic Waldorf, the Chinese speciality restaurant, promises oriental gourmet dishes like golden fried baby lobsters (baby lobster with shell batter fried), seafood soup and seafood fortune noodles (Cantonese style noodles with assorted seafood).

The best and exclusive seafood dish, however, is the seafood sizzler that is sure to tickle the taste bud of the spicy oriental food-lover.

"The sizzler includes prawn, squid and crab cooked in spicy Indonesian sauce called Sambal sauce that is served on a hot plate. This is very popular among fish enthusiasts as the spicy sauce is familiar to the Indian palate," a representative of the eating hub told IANS.

Besides the sizzler, the best selling list includes the 'five spice fish' and 'honey lemon fish fillet'.

"Five spice is a famous spice mixture of the Orient and it adds a punch to the dish. The fish fillet is coated with sesame oil and pepper, another staple of the region. Both these dishes are a hit with the guests," said the representative.
Other Links:

Restaurant Review: Savor seafood at Ente Keralam

Some like it hot: Thomasina Miers' chilli recipes

Shrimp cocktail: From Mexico comes a salsa spiked taste of the sea

Nigel Slater's Christmas seafood recipes

Seafood Guidance for Pregnant Women

Apps Promise Diners the Can't-Be-Had Reservation, for a Fee

Readers' recipe swap: seaside

Great Australian dishes: fish and chips

Asia's 50 Best Restaurants - 2014

For the latest food news and recipes, like us on Facebook or follow us on Twitter and get the NDTV Cooks app for Android or iOS.