Mid-day, Mumbai, Modified: January 25, 2013 12:35 IST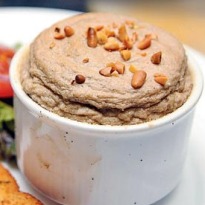 Nothing fits Mumbai's touch-and-go winter better than a mug full of light and warm souffle. Sonal Ved rounds up this season's 'it' preparation.

In the Western countries, Christmas marks the beginning of the souffle season. Once the lights are up and there is a nip in the air, kitchens begin to grease their ramekins and bake fairy-light pots of souffles. The Maximum City, of course, does not need a reason to celebrate.

"Mumbai has no season for indulging in souffles" says Chef Clyde Jude Comello from Indigo Deli, Colaba. As a part of his daily menu, Chef Comello dishes up a new souffle every day and his combinations range from sweet flavours such as white chocolate and blueberry, pineapple and coconut, chocolate and jalapenos to savoury ones such as camembert and cracked pepper, spinach and gruyere.

Explains Chef Paul Kinny from InterContinental, Marine Drive, "Souffle gets its name from the word 'souffler' which means to puff up in French." The dish is made by whipping egg whites with custard -- the combination rises in the oven resulting in a cloudy, wispy-textured cake.


SMD RECOMMENDS...

Mushroom and Pine Nut Souffle

At this delicatessen, the nippy weather clubbed with warm souffle and a good book, translates into a charming evening. The grey-coloured mug cake comes laced with slim pieces of roasted pine nuts. It is made with a mixture of porcini, shitake and button mushrooms and tastes essentially like a super thick, hot mushroom soup. Unlike typical souffles, this one isn't served with a creamy sauce, instead a helping of Melba toasts and lightly dressed salad leaves fill up the large plate. If you are feeling too daring, we also recommended the neon orange-coloured roasted bell pepper souffle that is flavoured with pecorino cheese.
Price: Rs 385 onwards

Coffee Almond Fudge Souffle

While a souffle is synonymous with light, airy and fluffy textures, the fudge in its prefix tempted our taste buds. Fresh and piping hot, our order was placed before us in 15 minutes. The first bite was coffee to chocolaty-sweet. We liked the crunch of the roasted almond sprinkled on top. Do pour some crème anglaise in the centre of the souffle.
For: Rs 425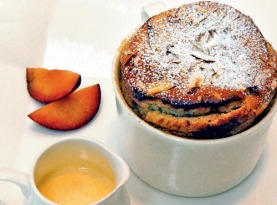 Coffee almond fudge soufflé at The Oberoi, Nariman Point


Brie and Roasted Cumin Souffle

Cheese fiends, this souffle is the cure for your cravings. The pale yellow dish has a fluffy exterior but inside it is dense and podgy. It is served rightly with a white cheese sauce that doubles its taste and calorie metre, both. For texture, a helping of crispy, fried plantain chips is served. So once you are done savouring the souffle, just dunk the leafy-tasting chips with the dip and chomp away.
Price: Rs 525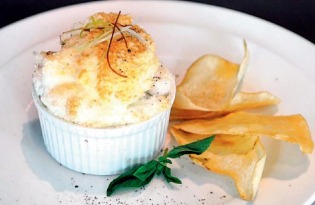 Brie and Roasted Cumin Souffle at Corleone, InterContinental, Marine Drive


Raise your own souffles.


Cheese and Blueberry Souffle

Ingredients:

For the creme patisserie:

150 gm milk
100 g cream
40 gm castor sugar
15 gm all-purpose flour
10 gm corn flour
3 egg yolks

For the souffle:

1 portion of crème patisserie
2 egg whites
Zest of 1/2 an orange
50 gm castor sugar
100 gm blueberry jam
100 gm cream cheese



Method:
>>In a pan, boil milk and cream together with 20 grams of castor sugar and remove from fire.
>>In another bowl, sieve all-purpose flour and corn flour together with the rest of the castor sugar. Add egg yolks to this and whisk.
>>Pour the hot cream and milk mixture into the egg yolk mixture and whisk thoroughly in order to prevent the eggs from getting cooked.
>>Once mixed, transfer this into a cooking pan once again and simmer over a slow flame, stirring continuously until the sauce begins to thicken.
>>Transfer the thickened sauce into a serving bowl and cover it with a plastic film in order to prevent a skin from forming.
>>At regular intervals, mix the sauce with a clean spoon. Once cool, it is ready to use.
>>Add orange zest to crème patisserie and mix well.
>>Gently fold-in cheese and ensure that no lumps remain.
>>In a clean bowl, whip egg whites with a pinch of salt. Add castor sugar and continue to whisk until soft peaks begin to emerge.
>>Fold the egg white mixture into the cheese mixture.
Spicy Veg SouffleIngredients:
1/2 cup flour
1 tsp baking powder
10 eggs yolks, beaten
1/2 cup melted butter
4 cups cheese, grated
2 cups cottage cheese, crumbled
2 green chillies, diced
300 gm sweet corn, boiled
1 pinch of salt
1 pinch of pepper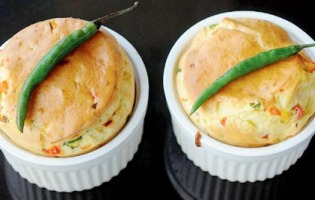 Recipe by pastry Chef Sanjay Kachave from Courtyard by Marriott


Method:

>>Pre-heat the oven at 180 degrees Celsius and grease the ramekins and keep aside.

>>In a bowl, mix egg with flour, butter, cheese, cottage cheese, green chillies, corn, salt and pepper.

>>Pour the mixture into the ramekins and bake for 30 minutes.

>>Serve hot.

Other Links:
Restaurant Review: Savor seafood at Ente Keralam
Perfetto! Italian and loving it
Bong bang on!
The burger bustle
Pizza in your face
Gymkhana: restaurant review | Jay Rayner
Knives Out: Why We Love Reading Cruel Restaurant Reviews
Fancy a desi wok in China Town?
Restaurant Review: Desi food at Aanch
For the latest food news and recipes, like us on Facebook or follow us on Twitter and get the NDTV Cooks app for Android or iOS.