Mid-day, Mumbai, Modified: December 04, 2012 11:07 IST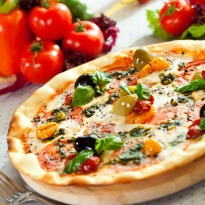 Crispy thin-crust pizzas smeared with fragrant sauces and chewy cheeses are popping up in menus across town. Bye bye, deep pans. Sonal Ved digs into five versions of this fad and rates the pizzas on their slimness.

When it comes to pizzas, crust is the king. It decides how stringy or fresh your pizza will taste, it holds the two most important elements of the dish -- the topping and cheese together, and lastly, it determines how satiating your eating experience will be.

In Mumbai, the latest crust craze is that of thin-crust pizzas. From paper-thin, semi-thin, doughy to puffy -- the lean bread-based dish can be found in several avatars across the city.

"What separates Naples-style or thin-crust pizza from Chicagoan or fat-crust pizza, is the thickness of the bread," says Chef Suresh Thampy from Courtyard by Marriott, Mumbai. While the latter gives you dense bites, the former is has a full-bodied crunch.

According to him, when it comes to thin-crust pizzas, the topping is the hero of the dish, whereas with American pizza the quality of the bread supersedes the rest. Since the bread below an authentic Italian pizza is not too thick, it lets the diner relish each flavour individually.

Apart from that, lean-crust pizzas are also more exclusive since they are artistically made using wood-fire ovens, as against fat-crust that can be made in a regular oven too. We trailed through the city to examine various versions of this dish and present to you a report card.

Di Napoli, Nariman point
Pizza Alla Nutella at Di Napoli. Pics/Satyajit Desai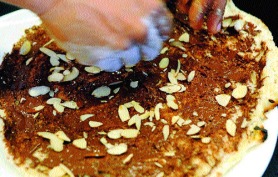 Nariman Point-based Di Napoli is the newest addition to the city's food scenario. The one-month-old Italian restaurant is the only standalone eatery to serve dessert pizzas. Away from the savoury flavours of this cheese-coated dish, Pizza Alla Nutella is a sweet combination of dough and legendary chocolate-hazelnut spread. Unlike regular pizzas where the ingredients are perched on top of the dough, here they are stuffed inside. To make this dish, the chef semi-bakes thin circles of dough and cuts it vertically to get two slim slices of bread. He applies a thin layer of Nutella in between along with almond flakes and re-bakes it until the chocolate cascades down into the base. Once done, the pizza is sliced and served with a dusting of castor sugar. To the palate, the arrangement of flavours works dreamily, but there is a slight imbalance of chocolate to bread ratio. We think some extra chocolate stuffing or a chocolate dip alongside can combat this minor flaw.
Rating: 3/5
Price: Rs 685

Francesco's Pizzeria, kemps corner
Peri Peri Paneer Pizza. Pic/Sameer Markande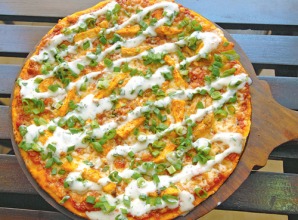 Tucked inside a barely-lit compound at Kemps Corner, Francesco Pizzeria is a take-away cum diner. The four-table restaurant is Mumbai's only standalone eatery to deliver gourmet pizzas to your doorstep. The menu is a mix of authentic Italian-style pizzas and some borrowed flavours such as BBQ Sauce-tossed Chicken Pizza, Breakfast Pizza Topped with an Egg, and Peri Peri Paneer Pizza. We tried the latter and were quite happy with this marriage of African and Italian flavours. The flatbread has an impressively consistent, thin and crisp base that holds well minutes after it is brought out of the oven. It comes topped with a well-cooked tomato sauce and teensy cubes of cottage cheese that have been pre-tossed in peri peri sauce and a non-chewy cheese. To give the dish a touch of freshness, it is garnished with chopped spring onions and homemade lemon mayonnaise that adds a refreshing note to the otherwise earthy preparation. We recommend you drizzle your slice generously with their homemade basil dip or add white truffle olive oil to ensure it slips down easily.
Rating: 4/5
Price: Rs 195


California Pizza Kitchen
Toastada Pizza at California Pizza Kitchen, Bandra Kurla Complex. Pic/Neha Parekh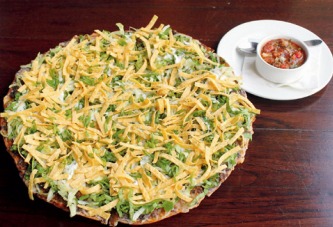 At this outlet you can sample pizzas sprinkled with flavours from around the world. Most interesting out of all is the Toastada Pizza. This hot and cold dish has cooked and uncooked elements stacked on top of each other. It has a nine-inch base that comes topped with homemade black bean sauce instead of tomato and basil puree and a mixture of cheddar and fontina cheese instead of clichéd mozzarella.We especially liked the fresh tinge of lettuce leaves that are thrown on top and the drizzle of mild and creamy ranch dressing that add to its cool quotient. It also has some tortilla chips that accentuate the crunchy pizza-eating experience. While the base is regular and thin, you can still bite into its delicate doughy airiness. The pizza is served along with a side of
fire-roasted tomato salsa.
Rating: 3/5
Price: Rs 535


Sweet chocolate pizza
Ingredients:
100 g pizza dough
60 g creme patisserie or custard
80 chocolate (grated)
60 chocolate cookies

Method:
Roll out the pizza dough into thin flat chapattis using a rolling pin.
Bake it for three minutes in an oven at 250 degree Celsius.
Remove from the oven and spread crème patisserie or custard on top.
Sprinkle chocolate and put it in the oven once again for five minutes.
Remove and garnish it with chocolate cookies before serving.

Cafe Sundance
Cipollini Piccante at Cafe Sundance, Nariman Point. Pic/Bipin Kokate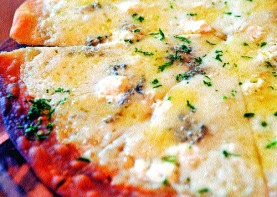 The revamped Cafe Sundance is a sanctuary for those looking out for paper-like thin crust pizzas. We highly recommended cipollini piccante -- a dish made using the no-fail combination of garlic, onions, tomatoes and chillies. While the ingredients may seem too Indian at first, the smart technique used to bring these elements together, makes the dish truly ahead of its times. The pizza is essentially a 10-inch bready-disk with a frail base that holds well even after turning cold. It is topped with a raw tomato sauce that cooks beautifully under the oven heat and makes its presence felt only to moisten your palate. For topping, slices of onions and chunks of garlic are baked until they char and turn mildly sweet. The entire dish is topped with a sprinkling of homemade chilli flakes that is the soul of this dish. We recommend you sip on cold iced tea in-between bites, if fiery flavours are not your thing.
Rating: 5/5
Price: Rs 395


Pizza Ortolana
Pizza Ortolan at the The Leela, Sahar. Pic/Nimesh Dave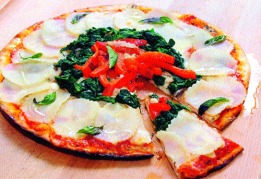 Ingredients:
150 g pizza dough
80 g pizza sauce
60 g mozzarella cheese (grated)
15 ml extra virgin olive oil
2 basil leaves
80 g spinach (blanched)
60 g potato (boiled and sliced), button mushroom (sliced)
5 g red bell pepper (roasted and julienne)
5 g garlic

Method:
In a pan, heat olive oil and saute spinach and mushroom in it.
Season with salt and keep aside.
Roll out pizza dough into thin and flat chapattis using a rolling pin.
Apply the pizza sauce and top it with mushroom, spinach, potatoes and red bell peppers.
Sprinkle cheese on top and bake it at 250 degree Celsius for five minutes.
Remove from the oven and cut it into slices.
Garnish with basil leaves and brush it with some olive oil before serving.

Frangipani, Trident, Nariman Point
Chef Ameya Thakur makes the Four Cheese Pizza at Frangipani, Trident, Nariman Point. Pic/Satyajit Desai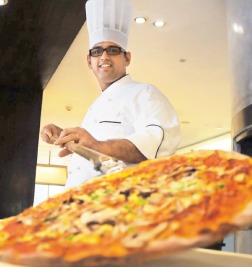 There are two similarities between Yash Chopra's movies and Frangipani's pizzas. One, they are both larger than life and two, they take you back to your European holiday. At the sun-lit restaurant situated inside the Trident, each crunchy slice is like a meal on its own. We opted for their four cheese pizza -- a preparation generously topped with flakes of potent gorgonzola cheese, chewy mozzarella, creamy goat cheese and dry parmesan slivers. The dish's base-width resembles a thin strand of spaghetti pasta. It is layered with tomato sauce and cheese, which forms another film of an equal height. While the bread has a semi-soft centre, it gets crusty as you bite your way outside towards the edges. The pizza tastes mainly of blue cheese, which is the strongest flavour of the dish and tomato sauce that is both fresh and sour. Like other five star eateries, Frangipani has an open pizza station where the dough is hand-pulled into a perfect 12-inch circle and baked on a stone oven with live mango wood pieces.
Rating: 4/5
Price: Rs 750

Recipes by Chef Birender Barthawal, The Leela, Mumbai

Basic pizza dough
Ingredients:
1 kg refined flour
50 g olive oil
15 g dry yeast
15 g salt
10 g sugar
450 ml chilled water

Method:
Activate dry yeast with warm water and sugar and keep aside.
In a bowl, transfer refined flour and make a well in the center.
Add olive oil, salt, yeast and chilled water to it.
Mix it evenly and knead for 15 minutes until it binds into a tight dough.
Let it rest for 45 minutes before use.

Basic pizza sauce
Ingredients:
1 kg canned tomatoes
10 g oregano
10 g salt
5 g sugar
10 g pepper
50 ml olive oil

Method:
Blitz tomatoes into a chunky puree.
Add all the other ingredients to it and mix well.
Keep aside until use.
Blitz tomatoes into a chunky puree.
Add all the other ingredients to it and mix well.
Keep aside until use.

Other Links:
Foods to warm your winter
Nigel Slater's sausage cabbage fry recipe
Angela Hartnett's spring lamb with charlotte potatoes and broccoli recipe
Nigel Slater's tatin and shortcake recipes
Why tahini is good for you
Nigel Slater's lamb with mustard and coconut recipe
Nigel Slater's pasta with smoked salmon and peppercorn butter recipe
How to cook the perfect moussaka
Nigel Slater's colcannon recipe
For the latest food news and recipes, like us on Facebook or follow us on Twitter and get the NDTV Cooks app for Android or iOS.