Paul Brown, guardian.co.uk , Modified: April 19, 2013 14:14 IST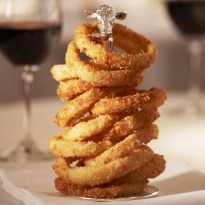 The perfect crispy and sweet onion rings from restaurant 34 in Mayfair.


Onion rings
red onions
2
white onions
2
malt vinegar
250ml
sunflower oil
for frying
plain flour
for dusting, seasoned
white breadcrumbs
100g
salt and freshly ground black pepper
For the batter
lager
330ml
flour
160g
cayenne pepper
a pinch
soy sauce
a dash
salt and ground white pepper
Peel the onions and cut into rings of 1cm width. Place into a tray, pour over the vinegar and marinate for 3 hours.
To make the batter, pour lager into a large mixing bowl and gently whisk in flour until you get a smooth, silky consistency (you may need more or less flour). Add cayenne, soy sauce and seasoning. Leave in the fridge till ready to use. This can be made 30 minutes to an hour before needed.
Pour 6cm oil into a medium-sized, heavy-bottomed saucepan, or use a deep fat fryer. Heat to 180C. If using a saucepan, be careful as the oil will be very hot. Drop the onion rings into the seasoned flour, then the batter, then the breadcrumbs. Fry until golden brown. Remove with tongs and place on kitchen paper. Season and serve.
Onion rings at 34, London. Photograph: Jan Baldwin for Observer Food Monthly

Other Links:
How to cook the perfect chocolate cake
Readers' recipe swap: under 500 kcal
Nigel Slater's tatin and shortcake recipes
How to cook the perfect pilaf
Readers' recipe swap: pink
Reader's recipe swap: burnt
How to cook the perfect moussaka
Readers' recipe swap: stuffed
Reader's recipe swap: dips
For the latest food news and recipes, like us on Facebook or follow us on Twitter and get the NDTV Cooks app for Android or iOS.