Nigel Slater, guardian.co.uk, Modified: April 19, 2013 15:36 IST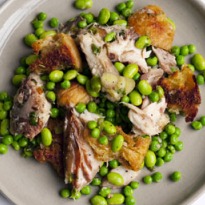 It's quick and nutritious - a healthy warmed salad to cheer you of an evening.

A substantial winter salad, more of an assembly of delicious ingredients than hands-on cooking, but great for a quick light meal.




The recipe
Cook 200 gm of whole edamame beans in their pods in boiling, lightly salted water for 10 minutes. Drain and pop the beans out of the pods. Boil 150g of frozen peas in deep, boiling water until tender and drain. Flake 300g of smoked mackerel into large pieces. Tear 100g of ciabatta into large pieces and cook them in 3 tbsp of olive oil in a shallow, non-stick pan until pale gold and crisp. Chop a spring onion and add to the pan, then toss in the edamame, cooked and drained peas, and flaked smoked mackerel. Serve immediately. Enough for 2-3.
The trick
Keep the heat moderate and use a non-stick pan. Try to find whole smoked mackerel - they are often juicier than the fillets.
The twist
Use broad beans instead of edamame. An Arbroath smokie is a good substitute for the mackerel, or smoked sprats if you prefer. Add a little bacon, cut into postage stamp-sized pieces, to the spring onion. You could substitute cooked ham, torn into fat, juicy shreds, for this if you wish.
Email Nigel at
nigel.slater@observer.co.uk
or visit
guardian.co.uk/profile/nigelslater
for all his recipes in one place
Photograph: Jonathan Lovekin for the Observer

Other Links:
20 best recipes from Nigel Slater's books: part 1
20 best Nigel Slater recipes from his books: part 2
20 best recipes from Nigel Slater's books: part 3
20 best recipes from Nigel Slater's books: part 4
Nigel Slater's Seafood Recipes
Nigel Slater's Sweet Summer Tarts
Nigel Slater's bread recipes
Nigel Slater's egg recipes
Nigel Slater's bright and cheerful winter recipes
For the latest food news and recipes, like us on Facebook or follow us on Twitter and get the NDTV Cooks app for Android or iOS.