NDTVCooks, Modified: December 07, 2012 11:31 IST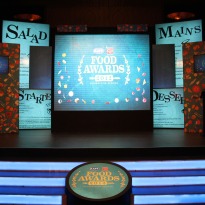 The second edition of the NDTV Good Times Food Awards brought together restaurants, chefs, foodies all under one roof to celebrate the greatest recipes and honour the best restaurants. This year it was a search for 'The Perfect Recipe' that has had patrons coming back for more.

What started with the 'Meet the Super Chef' sessions where foodizens got a chance to meet super chefs Vicky Ratnani, Ritu Dalmia and Aditya Bal and share some of their signature recipes, climaxed with a glamorous event where the search for the 'Perfect Recipes' ended and the best in the food and beverage industry were honoured with fame, recognition and acclaim.

The jury consisted of some of India's finest food connoisseurs and consultants like Seema Chandra, Vinod Dua, Rocky Singh, Mayur Sharma, Ritu Dalmia, Vicky Ratnani, Marut Sikka and Aditya Bal. The Food Awards were awarded in 12 categories.

So folks put your hands together for the winners of NDTV Food Awards 2012.



Category: Best North Indian Restaurant

Winner: Indian Accent, The Manor - New Delhi







Category: Best Coastal Indian Restaurant

Winner: Gajalee Coastal Food - Mumbai







Category: Best Regional Restaurant

Winner: Bhojo Hori Manna - Kolkata







Category: Best Asian Restaurant

Winner: Gung The Palace, Independent - Delhi







Category: Best Dessert & Coffee Menu

Winner: The Oberoi Patisserie and Delicatessen, The Oberoi Hotel - New Delhi






Category: Best Bar

Winner: Aurus - Mumbai







Category: Best European Restaurant

Winner: Smoke House Room - New Delhi







Category: Sensational Debut

Winner: Yauatcha - Mumbai







Category: All-time Favourite Restaurant

Winner: Karvalli, The Gateway Hotel, Residency Road - Bengaluru







Category: Best Dhaba

Winner: Mullapandal Kallu Toddy Shop, Ernakulam







Category: Special Jury Award

Winner: Down To Earth - Mumbai







Category: Best Foodies City

Winner: Indore

Other Links:
Indian-American chefs win James Beard Food Awards
Winners of the 2014 James Beard Media Awards
Metro Chef Awards 2013 to honour students too!
James Beard Foundation cookbook of the year: 'Historic Heston'
Oscars 2014: The Blockbuster Spread at the After Party
Asia's 50 Best Restaurants - 2014
Asia's 50 Best Restaurants 2013
Now, New York style eat-outs in Islamabad
10 of the Best Restaurants and Cafes in Lisbon
For the latest food news and recipes, like us on Facebook or follow us on Twitter and get the NDTV Cooks app for Android or iOS.