Mid-day, Mumbai, Updated: February 13, 2013 11:07 IST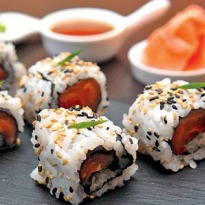 Aoi, Bandra's new Japanese cuisine restaurant, comes as a breath of fresh air amid over-hyped specialty restaurants. It's a tribute to the Land of the Rising Sun, complete with authentic flavours and traditional culinary techniques

We reviewed Kofuku earlier, and were delightfully satiated with the traditional Japanese fare. But while Kofuku puts the fine in fine dining, we now have option two. A cheerful, casual chic diner-cafe, Aoi (Japanese for blue) where tender artichoke reveals its succulent heart to prying fingers.

The service is friendly and prompt. Aoi's interiors spell Manga with the bookshelf and hand-painted illustrations adding appeal. Quaint origami light installations swirl on the ceiling above. We began with the California Smoked Salmon (425); the salmon tasted a bit chewy. This apart, it's one of the best California Smoked Salmons in the city; it's served with white soya sauce, wasabi paste and pickled ginger.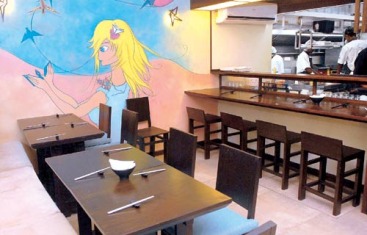 The Grilled Chicken Thighs Yakitori (300) offers pieces of bite-sized chicken, marinated, skewered and grilled over a hot charcoal fire. The Yakitori sauce makes it tangy and zingy. The menu's best dish, it will appeal to all.

The Katsu Prawns Hot Mustard (350) is a traditional Japanese dish. Katsu is a type of sauce, mixed with breadcrumbs and coated on the shrimp, which is fried. The dish didn't click since it was too deep fried sans its own flavours.

The Minced Chicken Gyoza (325) dumplings were fabulous. The Gyoza are plump, tender, with bags of flavour. Strands of sliced cabbage threaded through ground chicken lend a crunchy texture.

The Black Forest Tea (125) is a refreshing and aromatic tasting tea. The Wasabi Grilled White Fish (400) is another winner where succulently soft and well smeared white fish with wasabi paste, is delicate but not overwhelming; with sticky rice, it's is aromatic and melt-in-the-mouth.

Eating out
Aoi
Food: Authentic
Service: Attentive
Ambiance: Edgy

At 1, Gloria Building, St Baptist Road, near Mount Mary Steps, Bandra (W).
Call 26404004 / 69995000 / 01
Aoi didn't know we were there. The GUIDE reviews anonymously and pays for meals.
The reviewer can be followed on @tansworld

Pics/Shadab Khan