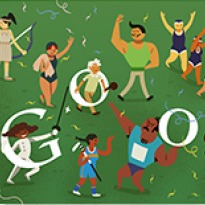 After having maneuvered our way along four interactive Google doodles, the adrenaline-fueled race comes to an end (perhaps you can give your fingers a little rest now!) as the finale is here! The seventeenth in the series of London Olympics 2012 doodles is another static one after yesterday. This Google doodle celebrates the London Olympics 2012 closing ceremony which is set to happen today at London.

What is fascinating is that this doodle features all the athletes of the various games that have made an appearance in the London Olympics 2012 series of Google doodles. From hurdles to basketball, from weightlifting to swimming, one and all are seen making merry.

At the London Olympics 2012 closing ceremony today, the three time Olympics host - London, will hand over the torch to the new host Rio de Janeiro for the 2016 Olympic Games. The closing ceremony of the Olympic Games is titled 'A Symphony of British Music' celebrating one of Britain's biggest cultural exports.

Here's a little trivia regarding the London Olympics 2012, here's a peak into some of the Olympic participant's diets.

Did you know that the Olympic committee shipped in 25,000 loaves of bread and over 200 tons of potatoes alone?

American swimmer, Michael Phleps's breakfast: three fried-egg sandwiches loaded with cheese, lettuce, tomatoes, fried onions and mayonnaise. Two cups of coffee. One five-egg omelet. One bowl of grits. Three slices of French toast topped with powdered sugar. Three chocolate-chip pancakes.

Yohan Blake, the Jamaican sprinter snacks on - 16 bananas per day.

Cyclist Sir Chris Hoy apparently consumes 6,000 calories daily. He starts his morning with a super wholesome breakfast that consists of cereal, banana and honey, orange juice, coffee, a fruit smoothie, and a protein shake.

The fun of the Olympics is in the details. and hopefully, that's what we will enjoy in the dazzling London Olympics 2012 closing ceremony.