NDTV Cooks, Updated: August 07, 2012 17:17 IST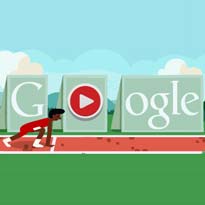 Warm up and exercise those fingers for they will be tippy-tapping on the keyboard today for personal glory or for an intense face-off with friends. Google's twelfth interactive hurdle doodle takes you a tad closer to the London Olympics by letting you play the 110 metres men's race with 10 hurdles.

Play with the arrow keys and jump with the spacebar over the hurdles. You're given a score in seconds and a star rating once you complete the race. This shining achievement can be shared on Google+ or you can fire up the perfectionist in you and try again for an improved score.

The world record in the hurdle event is 12.87 seconds and the Olympics record is 12.91 seconds, but as this doodle will show you; these records are no match for your fiery fingers and can be smashed effortlessly and with least possible physical pain.

Liu Xiang from China is the first person to run under 12.9 seconds in a 110 meter hurdle race. To reach such heights of greatness for Olympians, their diet plays a crucial role. Fueling your body requires good carbohydrates, lean protein, heart-healthy fats, and fluids. Eating the right foods can optimize any sportsperson's performance. A well-chartered nutrition plan can do wonders for your performance. All Olympians follow a strict diet regiment because it helps delay fatigue, helps them try harder at their sport, helps them recover faster and gives them that extra dose of energy needed to be a winner.