NDTV Cooks, Updated: August 08, 2012 16:30 IST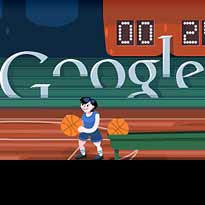 August 8th 2012. Today our productivity at work declined as we were too busy slamming the keyboard to get a respectable score. We aren't talking about work aggression or the I-hate-my-boss phase but about the new interactive Google doodle. As the London Olympics 2012 gears up for the men's quarter finals today, Google presents an interactive basketball doodle where you get 24 seconds to basket as many balls as you can.

One can shoot baskets using the spacebar or the left mouse key. You can power-up by holding down the key or the spacebar. Eventually the game get tougher as the player is moved further away from the ring. Yikes. The doodle adds a nice touch by showing the letters of the Google logo sitting pretty in the audience.

Even though the first basketball game to be played was in 1892, it did not become an official Olympic sport until 1936. The first basketball Olympic took place in Berlin, Germany. Also, the basketball was originally brown in color but was later changed to orange. (Much prettier, don't you think?)

To prepare and sustain your body for such athletic events is no small feat. Your body needs the quick source of energy that carbohydrates provide, from bread, pasta, rice, cereals and fruits. Protein is essential for athletes whether you have it in the form of foods, protein bars or shakes, they will ensure that you can achieve your goals. Basically proteins are the building blocks of your body that are used for muscle growth and repair. Protein rich foods are - meat, poultry, fish, eggs, dairy, nuts and beans. It's a good idea to combine a complex carbohydrate with your protein just before your exercise. So adding a whole wheat toast with your grilled chicken is a good pre-exercise snack.