Mid-day, Mumbai, Modified: January 07, 2013 12:39 IST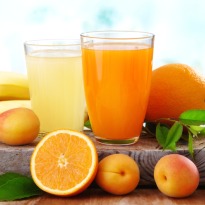 Stick to your New Year resolution of staying fit with healthy, fruit juices that will help de-tox your body after a season of non-stop binging and partying.


For the new dieter >>

Apple, Carrot, celery and ginger juice
This negative calorie-rich juice will help you burn more calories to digest than the amount it contains.
> 1 medium apple, cored and diced
> 1 medium carrot, diced
> 25 cm stalk celery, chopped
> 1 cm piece ginger, grated and juice squeezed out

Mix the apple, carrot, celery and ginger juice into a juicer. Process and pour into a glass and drink immediately. For best results drink unstrained juice so you benefit from its fibre content.


For the party animal >>

Watermelon, lime, mint juice
Drink all your guilt away with this juice that will help you detox after all the tipsy night outs.
> 2 cups watermelon
> 1 small lime
> Handful of Spearmint
> 1 cm piece ginger

Put the watermelon, lime, and mint into a blender, process and pour into a glass unstrained. Drink immediately.


For the workaholic >>

Dragon Fruit, Kaffir Lime & lemon juice
Refresh your senses and get the energy to resume work with this Vitamin C-rich juice.
> 1 cup dragon fruit
> 1/2 cup grapes
> 2-3 kafir lime leaves
> 1/2 lemon

Mix the dragon fruit pineapple, carrot, spinach and lemon into a juicer. Pour into a glass and drink immediately. Recipes courtesy: Rushina Munshaw-Ghildiyal
Other Links:

Carrot, orange and ginger juice recipe

Soft drinks targeted by new government health campaign

Diet drinks do not guarantee weight loss

Green juice: drink your way to five a day

Nigel Slater's sausage cabbage fry recipe

Angela Hartnett's spring lamb with charlotte potatoes and broccoli recipe

Nigel Slater's tatin and shortcake recipes

Why tahini is good for you

Nigel Slater's lamb with mustard and coconut recipe

For the latest food news and recipes, like us on Facebook or follow us on Twitter and get the NDTV Cooks app for Android or iOS.