Mid-day, Mumbai, Updated: March 11, 2013 11:11 IST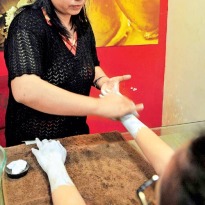 When we heard about ice cream and manicure spoken in the same breath, we were eager to go figure what lay beyond. Post our experience at the newly launched ice cream manicure, we left with shiny nails but no real ice cream to relish.

Pick a flavour of your favourite ice cream or create a sundae by mixing different flavours, we were told, about the creamy, new ice cream manicure and pedicure treatment at Nailspa Experience. In our head, we were craving for a sweet smelling raspberry scoop.

However, as with drippy ice cream, these visions came to naught when we learnt that it was not the real deal and this manicure was just trying to be as "cool" as an ice cream. The core ingredient of this delicious sounding manicure is a piece of salt with different nourishing minerals and softening oils mixed in it, which is shaped like an ice cream scoop. If not for the shape, it could pass off as a yoghurt manicure. The flavours available at the spa include, strawberry, chocolate, we choose summer rain, which had a sweet, citrus-ey aroma.

The process is like a regular manicure, which begins with filing your nails. This is followed with a scrub. After selecting your flavour for the scrub and salt, the sundae element comes in. Our nail expert, Asen, scrubbed our hands with deft movements, and even though it was just a manicure, we began to hit slow mode, soon enough. With cuticle softener rubbed in, our hands were dipped into a bowl with the bath salt and a cleaning gel.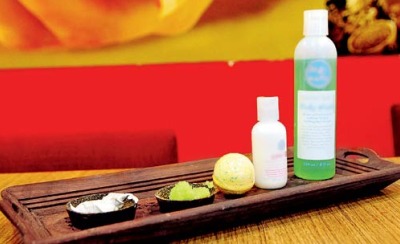 The core ingredient of this delicious sounding manicure is a piece of salt with different nourishing minerals and softening oils mixed in it, which is shaped like an ice cream scoop. PICS/Bipin Kokate

Once in water, the salts began to dissolve emitting several bubbles; we were part of some sort of mini-jacuzzi for our fingers! Post the dip our cuticles were tamed with swift clips by Asen. By now, our hands appeared shiny and attractive. While Asen worked away at the neglect we subject our hands to, we sipped on a cup of delicious coffee.

The next step involved covering the hands with a special hydrating mask. Once the mask was wiped off, our keyboard-abused hands were further pampered by a moisturising massage, which we wished would never end. Finally, one has to pick a nail-paint of one's choice and with a coat of a nail hardener, two coats of paint and a transparent colour protector coat, our hands looked and smelt like a million bucks. Though our imagery of hands being soothed with creamy ice cream wasn't fulfilled the manicure, it does leave your hands feeling smoother. As for the ice cream craving, we dropped into the nearest shop that sold it, for a scoop of the real deal.

Ice-cream manicure

Experience: calming
Service: excellent
Cost: worth it!

For: Rs 950 for manicure and Rs 1,000 for a pedicure; it lasts for nearly an hour.
At: Nailspa Experience, Kusum Kunj building, next to Guess Showroom, Linking Road, Khar (W).
Call: 65324444