Felicity Cloake's alcoholic lemonade - recipe
Felicity Cloake, guardian.co.uk, Modified: April 26, 2013 13:12 IST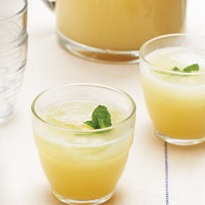 Gin, lemons, sugar and mint: a simple but effective formula for the perfect alcoholic lemonade, from Felicity Cloake's perfect picnic.


For a non-alcoholic version, replace the gin with 150ml elderflower cordial.

Serves 10-20

8 unwaxed organic lemons, cut into chunks
300g caster sugar
500ml gin
Sprig of fresh mint

Put the lemons into a blender or food processor with 50g of sugar and 250ml of water. Blitz until smooth.

Pour the juice through a sieve into a jug and tip the lemon pulp back into the blender. Add another 50g of sugar and 250ml of water and repeat the process until all the sugar has been used up.

Discard the pulp and stir the gin into the jug. Keep refrigerated until decanting into a chilled container and add a sprig of mint.



Other Links:
Make lemonade better with these tips!
Cooking with flowers
Readers' recipe swap: zesty | Felicity Cloake
8 Herb-Based Cocktail Recipes
How to make the perfect sangria
The bar is open - Happy Father's Day!
For the latest food news and recipes, like us on Facebook or follow us on Twitter and get the NDTV Cooks app for Android or iOS.