Almond Salad with Arugula at The Pantry, Kala Ghoda. Pic/Wilson Ranbhise
Honawar proves his point by citing an example of a salad. Since salads are supposed to be full of fiber, a healthy gourmet meal will preserve that virtue and also ensure that the salad is scrummy by using inventive dressing or ingredient combinations. At the two month-old Pantry, patrons can get a whiff of this trend by digging into gluten-free red millet pancakes, brûléed cinnamon-scented oat porridge, almond salad with arugula among other healthy treats. And this is just one instance. Food forecasters predict this trend to hop outside salad specials onto other areas of the menu such as gourmet soups, calorie-free desserts and carb-free main course dishes as well. "These will especially work for diners who count calories even while dining out," he adds.
Cupcakes make way for Cakelettes
Cakelettes, like cupcakes are small desserts that can be eaten in one or two bites. They are generally layered and packed with a variety of dessert ingredients such as nuts, fruits, cream and sponge in one go.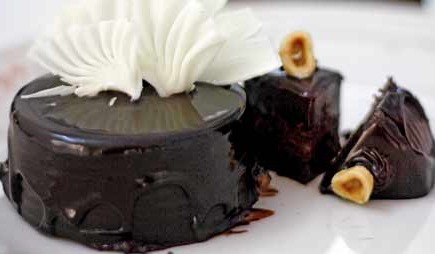 Love for Hazel cakelette by Sabina Gupta. Pic/Neha Parekh
"What differentiates the two is the fact that cupcakes carry one or two flavours at a time, while with cakelettes, the possibilities are endless," says baker Sabina Gupta from Not Just Desserts by Sabina. According to Gupta, one reason adding to the popularity of cakelettes is its size, which is apt for weight watchers. "Since detailing bakes has become the order of the day, cakelettes allow one to experiment with interesting textures, colours and flavours," she says. The big advantage of ordering cakelettes instead of cupcakes is that you can dress them up to look glamorous or dress them down to look comforting.
Edible Foam
An offshoot of molecular gastronomy, edible foam is slowing taking over the garnishing industry and giving clichéd cheese sprinkles a run for its money. "Using various culinary equipments such as an ISI canister or stick blender, flavoured liquid is buzzed to create edible foam," says Chef Cheung. This foam is then perched on pastas, fish, risottos, grilled meats, and other dishes and served to patrons in its lathered avatar.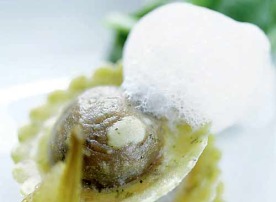 Ravioli with edible air
The foam mainly tastes like the parent ingredient but is merely a fleeting flavour. Chef Cheung adds, "While the tiny bubbles look good, their basic aim it to create a burst of flavour and accentuate the taste of the final dish with which it is served." At his restaurant, Ellipsis, one can taste edible air made out of unique flavours such as citrus, pepper, mint, truffle mushroom, smoked tomato, artichokes and Parmesan cheese.
Native Indian Flavours
With the advent of niche international cuisines wooing Indian diners, local cuisine had taken a bit of a backseat. But this is about to change as a lot of restaurants promise to focus on authentic Indian flavours from lesser-known communities such as Bihari, Moplah, Assamese and Andhraite in the year to come. Glimpses of this can already be seen on the menus of Indian restaurants such as Soam, Neel and Zaffran who have been experimenting with regional flavours of Gujarat, Awadh and North India respectively. Apart from that, contemporising Indian food is also on the cards. The bearer of this trend is the one month-old Bong Bong. The Bandra-based eatery not only focuses on provincial Bengali food, but also serves dishes with modern twists. "Take, for instance, the Five Spice Potatoes or Pach Poran. Though the spices used to marinate vegetable are traditional, we use cream to give it a continental feel. Similarly, our Herbed Bhapa Chicken has steamed meat flavoured with parsley," says co-owner, Surjapriya Ghosh. Ghosh's restaurant aims to introduce 25 fresh neo-Bengali dishes in the year to come.
Resto Watch
Three restaurant openings to look forward to:
1) Mai Tai
Mai Tai, a Lower Parel-based food lounge is likely to open its doors in the first half of next year. The eatery, brought to Mumbai by the same company that owns Shiro, Hard Rock Café and California Pizza Kitchen, will specialise in contemporary Thai food. The restaurant's ambiance will be inspired by Tiki culture and its menu will comprise dishes such as bruschettas, summer rolls, crispy chicken, falafel burger and Thai curries among other things.

2) The Sassy Spoon
Express Towers at Nariman Point will house a new restaurant called The Sassy Spoon early next year. The eatery owned by Rachel Goenka will specialise in eclectic European fare. The restaurant's ambiance will have a different day and night setting, and we look forward to feasting at their al fresco dining area. The Sassy Spoon's menu will comprise dishes made using unique combinations such as chocolate and basil, gun powder and sea food.
3) Crazy Dog
Ketan Kadam of 212 Bar and Grill and Sundance Café will add another feather to his cap with the launch of Crazy Dog. The restaurant slated to open near Sterling Cinema by the end of January, will have a casual ambiance with comfort-food filled menu. Their menu boasts of dishes such as Cottage Cheese Steak, Thyme Roasted Chicken, Baked Potato Skins and Cajun-spiced Chicken Tenders among other dishes.
Rumour Has It
Apart from these, there is talk among industry insiders about four more openings. The first is Wagamama, a British-headquartered restaurant specialising in affordable Asian food. The eatery currently has its branches in Denmark, Switzerland and England.
This will be their first Indian venture. Then there is an unnamed project by the owners of Silver Beach Cafe. Though its location and menu have been kept tightly under wraps, the owners were happy to tell us about the opening of a second branch of their Andheri-based eatery Nom Nom in Bandra.
An official announcement is also awaited for Masala Library, a fine-dine restaurant specialising in Indian fare by Jiggs Kalra. And Olive's Manu Chandra is likely to bring Bangalore's Monkey Bar to the city.