Richard Johnson, guardian.co.uk, Modified: April 19, 2013 15:01 IST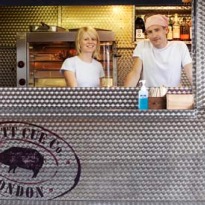 Street food traders are queueing up to write down their recipes and publish cookbooks. Will the results live up to expectations and inject some life into the genre?


Traditionally, street food recipes aren't written down. No point, really. Measurements - such as they are - are more likely to be "pinches" and "handfuls" than grams and kilograms. And ingredients change according to what's available at the market that morning and what's left over in the van that night. So with street food officially designated a "hot trend" in food publishing this year, there's a lot of anxious traders settling down to commit pen to paper.

Claire Kelsey, whose ice cream van, Ginger's Comfort Emporium won the British Street Food Awards in 2012, had only a few recipes written down, but lots of ideas for flavour combinations - cucumber, mint and honey - scribbled on Post-it notes. "I had to flesh those out into fully formed instructions and specifics." It took her a year to write down the 80 recipes for Melt, her ice cream book for Simon and Schuster. And they all had to be tested.

"I found that even harder" says Kelsey. "If people asked me to be specific about things that weren't important, like what shelf of the oven something should go on, I felt frustrated. I wanted the recipes to be snappy and not overloaded with unnecessary detail. I wanted to foster confidence in people to use their initiative, so that they could make ice cream from whatever the world threw at them. But we got there in the end!"

Jez Felwick, aka The Bowler, found it instructive to write down his recipes for The Bowler's Meatball Cookbook, published by Octopus on February 4. "Although now, when I now make my Spicy Slaw on the road, I am slightly concerned that it might not be what's written in the book. And checking your own book to see what the exact recipe is feels properly alien to a street food trader."

Octopus, who will also be publishing the Pitt Cue book this summer, are hoping that street food will bring energy to a static cookbook market. "Street food is providing some exciting new faces for the food scene" says Fiona Smith, the Head of Publicity at Octopus. "Young chefs who can find more affordable ways to serve the food they want to prepare, and who appeal to a younger market of foodies - and hence book buyers."

The way that street food traders cook is very timely. "[They] make fantastically tasty food with limited space and equipment - and with budgets as small as their premises" says Nicky Hill, the Senior Commissioning Editor at Simon and Schuster. "In these increasingly tough times we find that books such as these appeal to a wide range of people who are keen to find new ways of cooking resourcefully and with a sense of spontaneity and fun."

That fun is perfectly reflected by the Pizza Pilgrims, brainchild of twentysomething brothers Thom and James Elliot. After giving up "proper" jobs, the brothers embarked on a 4,000km road trip around Italy to uncover the best kept secrets of pizza-making in a tiny 3-wheeler Piaggio Ape van - with a maximum speed of 40mph. Now, the brothers hope that the Pizza Pilgrims Cookbook, published in May, will capture that same sense of fun.

This is only the first wave of street food books. Titles already commissioned from London's Meringue Girls, as well as Yianni Papoutsis and Scott Collins, the team behind the MeatWagon, Meat Liquor, Meat Market and Meat Mission. And more books are in the planning stages and due for publication in 2014. With the recession only just starting to bite now, the publishers will be hoping that the British appetite for street food will continue to grow.

The Pitt Cue van underneath Hungerford Bridge. The recipe book is out this summer. Photograph: Katherine Rose for the Observer



Other Links:
Dilli di galiyaan, Dilli da khaana!
Street food, Singapore-style: a model worth copying?
Egyptian street food recipes
Indian Street Food is Safer Than Restaurant Food
Street food fest in Delhi entices many
How to Make Peanut and Mango Chaat
Now order delectable Chandni Chowk food online
Kachori Recipe: Take a Trip Down Memory Lane with this Classic and its Variants
Top Hotels to Serve your favourite Chaat
For the latest food news and recipes, like us on Facebook or follow us on Twitter and get the NDTV Cooks app for Android or iOS.