>> Place the rajgira in a deep kadai and roast lightly till an aroma emanates. Remove from heat. Grease a clean working surface with half tablespoon of ghee.
>> In the same kadai, cook jaggery on medium-low heat till a thick syrup is formed. To test if the syrup is ready put a drop of it in a cup of cold water. If it forms a firm ball the syrup is ready.
>> Add the rajgire and half tablespoon of ghee. Mix and immediately spread on the greased surface. Roll out into one inch thickness. Ensure that the surface is even. Let it cool slightly. Cut neatly into one and half inch squares.
>> Place the dark chocolate in a microwave-safe bowl and melt in a microwave oven on HIGH for thirty seconds. Take the pan off the heat and allow the chocolate to cool, stirring continuously, to 30ºC.
>> Dip a piece of rajgira chikki half way into the melted chocolate. Place it on a silicon sheet till chocolate sets. Serve immediately.
Chocolate Lassi
Ingredients
1 1/4 cups grated dark chocolate
4 cups thick yogurt, chilled
8 tablespoons powdered sugar
A pinch of salt
4 tablespoons dark chocolate chips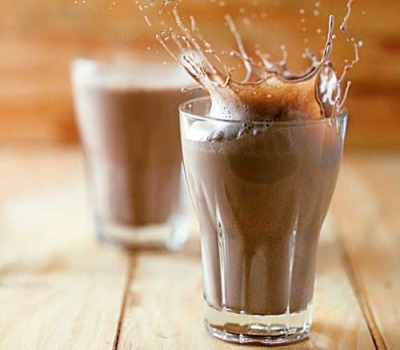 Method
>> Melt the chocolate in a double boiler. You can also melt the chocolate in a microwave on 'high' for thirty seconds. Whisk well and set aside to cool down to room temperature.
>> Mix together the yogurt, sugar and salt in a bowl. Whisk until the sugar and salt are well incorporated.
>> Add the cooled melted chocolate and mix well.
>> Pour into individual glasses and serve chilled, decorated with the chocolate chips.
Chocolate Kalakand
Ingredients
2 tablespoons cocoa powder
2 litres (10 cups) milk
1/8 teaspoon crushed alum
3/4 cup sugar
2 tablespoons of ghee for greasing
2 tablespoons liquid glucose Silver varq, as required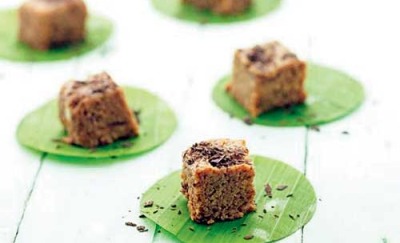 Method
>> Grease a seven-inch by five-inch rectangular aluminum tray with ghee.
>> Boil the milk in a large non-stick pan on high heat. Add the alum and sugar and continue to cook, stirring continuously, for about an hour or till the milk becomes grainy and thick.
>> Add the ghee and glucose. Mix well and continue to cook till the mixture begins to coat the back of a ladle. Add the cocoa powder and mix well.
>> Transfer the mixture into the greased tray and set aside to cool to room temperature and set.
>> Cut into squares; decorate with silver varq and serve.
Chocolate and Nut Karanji
Ingredients
1 1/5 cups refined flour (maida)
3 tablespoons pure ghee
Oil for deep-frying
For the stuffing:
1/2 cup grated dark chocolate
1/4 cup chopped almonds
1/4 cup chopped walnuts
1/2 cup grated mawa/khoya
2 tablespoons powdered sugar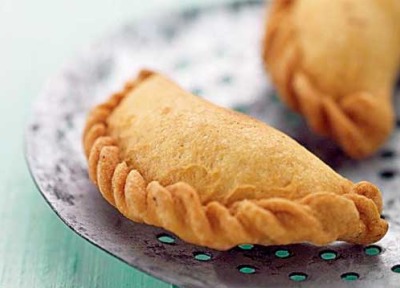 Method
>> Put the flour in a deep bowl. Add the ghee and add two to three tablespoons of chilled water or chilled milk. Knead into a medium-soft dough, adding more chilled water or milk as you go along. Divide into small balls and let them rest, covered with a damp cloth.
>> To make the stuffing, mix the mawa, powdered sugar, walnuts, almonds and grated chocolate in a bowl. Chill it in the refrigerator for about ten minutes.
>> Roll out the dough balls into small round puri. Place a puri on the worktop; moisten its edges.
>> Place some stuffing in the centre and fold one side of the puri over the other. Press the edges to seal and further twist the edges with your finger tips in a decorative manner. Or cut the edges with a serrated cutter. You can also make the karanji using a mould.
>> Keep the karanji in the refrigerator for thirty to forty minutes.
>> Heat sufficient oil in a kadai. Deep-fry the karanji, a few at a time, till light brown. Drain extra oil on absorbent paper.
>> Serve hot or allow them to cool to room temperature and store in an airtight container.
Note: Since mawa has been used, the shelf life of these karanji is short and therefore they should be consumed fast.
Aah! Chocolate, Sanjeev Kapoor, Popular Prakashan, Rs 595