Mid-day, Mumbai, Modified: January 23, 2013 10:25 IST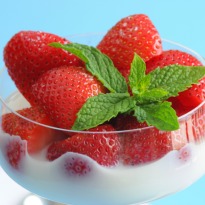 If you thought all things strawberry demand you give up counting calories, this wintry season is different. Sonal Ved churns out diet recipes that will make you eat your strawberry with a nutritious twist

All good things are bad for you, and the only way to relish strawberries is with dollops of fresh cream. This year, both statements turn into myths, as strawberry is one fruit that manages to be tasty and nutritious.

With the round of festivities sending diet plans off track, indulging in a punnet of strawberries can be a good way to start steering it back on track.

According to dietician Dr Richa Anand from Dr L H Hiranandani Hospital, strawberries are a rich source of fiber, low on calories and high on Vitamin C. "While dietary fiber helps in regularizing digestion, Vitamin C protects one from seasonal colds and flu, which are common during winters," says Dr Anand.

To help you reap the benefits of this berry, we get four chefs to show you how to add strawberries into your food.

Dessert
Low-fat Strawberry Flan
Low-fat Strawberry Flan by chef and owner Bunty Mahajan from Deliciae Patisserie. Pic/ Neha Parekh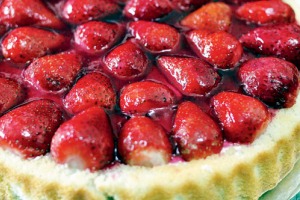 Ingredients:

For the flan:
3 eggs
1/2 half cup sugar
3/4 cup flour, sifted
1 tsp vanilla essence

For the filling:
250-300 gm strawberries, roughly chopped
1-2 tsp sugar substitute
Juice of 1 lemon
1 tsp cornflour
1 1/2 cup whipped cream
Sliced strawberries and warm strawberry jam for garnish

Method:
For the flan:
> Break eggs and separate the egg whites in a bowl
> Add sugar to the egg whites and beat it with a beater until light and fluffy
> Add flour and fold the batter gently. Add vanilla essence to this and mix the flan batter well
> Pour the batter into a flan tin and smoothen the top with the back of a spoon
> Bake the flan at 200 degrees for approximately 20 minutes or until the flan is golden brown from the top
> De-mould once it comes down to room temperature and leave it aside

For the filling:
> Heat a pan and tip in strawberries. Add sugar substitute and lemon juice to it and mix well.
> Bring the mixture to a boil. If the filling begins to char, add a few spoonfuls of water.
> Dissolve cornflour in a separate bowl in 1-2 tablespoons of water and add it to the mixture. Stir it rapidly to void forming lumps.
> Once the mixture gains a thick consistency and a glossy glaze, remove from fire.
> Place the flan on a plate and scoop-out its insides with the help of a spoon. Make a neat hollow well and fill it with the strawberry filling.
> Cover it with fresh strawberry slices and brush it with some warm strawberry jam.
> Garnish the finished flan with whipped cream and serve chilled.


Drink
Twisted Strawberry Splash
Recipe by bartender Yam Thapa from Umame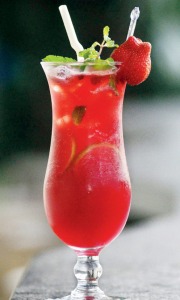 Ingredients:
2 large strawberries
4-5 mint leaves, torn
15-20 ml lemon juice
60 ml strawberry crush
8 ice cubes
90 ml black tea

Method:
> Finely chop one strawberry and place in a drink shaker. If you don't have a shaker, use a coffee shaker instead
> Add lemon juice, strawberry crush, black tea and ice cubes to it and shake it rigorously
> Once all the elements of the drink have mixed well, empty the contents of the shaker into a glass
> Garnish with fresh strawberry pieces and mint leaves




Main Course
Grilled Chicken with Strawberry-Tomato Sauce

Grilled Chicken with Strawberry and Tomato Sauce by Chef Joshua D'Souza of Silverspoon Gourmet. Pic/Pradeep Dhivar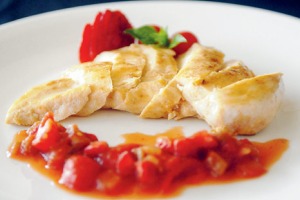 Ingredients:
For the grilled chicken:
4-6 chicken breasts
1/8 cup olive oil
1 tbsp Cajun spice
2 tbsp lemon juice

For the sauce:
1 cup strawberries, quartered
1 tbsp olive oil
1/4 cup red onions, diced
1 cup blanched potatoes, diced
2 tbsp vinegar
Juice of 3 lemons
1/2 cup oval tomatoes, quartered
1 tsp sea salt
1/2 tsp white pepper
Parsley, to garnish

Method:
> For the grill chicken, slice the chicken breasts with a pointed knife and keep aside. Make a marinade by mixing lemon juice with Cajun spice and baste the chicken pieces in it for 3-4 hours
> In a pan, warm olive oil and place the chicken breast in the center. Allow it to sear on both the sides for 3-4 minutes each on high flame
> Reduce the flame to medium and cook the meat further for 2 minutes on each side
> Once it appears well cooked, remove from fire and allow it to rest
> For the sauce, in a pan, heat oil and pan-fry the onions and potatoes
> Cook for 2-3 minutes and add vinegar, lemon juice and continue to saute for one minute further
> Once the vegetables begin to soften and the liquid begins to thicken, add strawberries, tomatoes, salt and pepper
> Saute the sauce for one minute and remove from fire
> Plate the grilled chicken on a plate and pour the sauce on top. Garnish with parsley and serve

Salad
Insalata Nalate
Insalata Nalate by Chef Sanjay Kotian from Mia Cucina. Pic/Pradeep Dhivar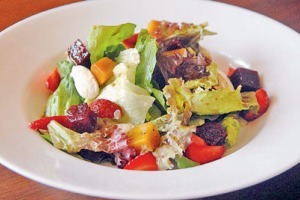 Ingredients:
For the salad dressing:
75 ml balsamic vinegar
150 ml extra virgin olive oil
25 g honey
2 g sea salt
2 g crushed black pepper

For the bread croutons:
50 g baguette / bruschetta bread
15 ml olive oil
5 g garlic cloves, peeled
Sea salt to taste
2 g black pepper

For the salad:
34 g fresh strawberries, halved
25 g romaine lettuce
25 g rocket lettuce
20 g lollo rosso lettuce
25 g iceberg lettuce
30 g goat cheese
30 g pickled beets
15 g bread croutons
20 ml salad dressing

Method:
> In a bowl, whisk all the salad dressing ingredients to form a thick emulsion. Mix well and keep aside
> For the bread croutons, break the baguette or brushchetta bread into bite-sized pieces. In a bowl, pour olive oil and add garlic, sea salt and pepper.
> Add the bread pieces to this emulsion and toss well. Once the oil coats the bread well, roast it in a pre-heated oven until hot and crispy. This should take about 7-8 minutes.
> For the salad, clean all the lettuce leaves and keep them dipped in ice-cold water
> Drain the leaves and wipe it dry with a kitchen towel.
> Drizzle the prepared vinaigrette on top of the leaves and toss it well. Ensure that the dressing coats each leaf. Repeat the process with the strawberries separately.
> Place the lettuce leaves in the center of a serving bowl and top it with the strawberry pieces.
> Perch goat cheese on top and garnish the salad with bread croutons and pickled beets.
> Serve cold.


Food News

Enigma returns

Last Friday, Enigma, the club at JW Marriott Mumbai opened its door to the city. The multifunctional space now has a world-class bar by Diageo, club nights and a unique combination of cultural elements such as music, fashion, art and live acts.
At: JW Marriott, Juhu
Call: 66933000

Sake bomb
Enjoy the sake bomb, a drink made by pouring sake into a shot glass and dropping it into a glass of beer.
At: Nom Nom, Seven Bungalows, Andheri (west)
Call: 26244371

Get a beer belly
Tapas bar, Escobar, brings you the perfect occasion to celebrate a fun filled, relaxed Sunday evening with its Beer Belly, a special menu comprising appetizers such as Bruschetta Pommodoro, Smoked Salmon Olivette and thin crust pizzas.
At: Escobar, Linking Road, Bandra (west)
Call: 42760000

Brunch at Silver Beach Cafe
Dig into assortments of soups, salad, sandwiches and steaks oat Silver Beach Cafe's Sunday Brunch. Now enjoy your Sundays with unlimited Sangria and a three-course meal of your choice just at Rs 1,500.
At: Jaldarshan Building, Near Hare Rama Hare Krishna Temple, Gandhi Gram Road, Juhu,
Call: 9967827777

Hangover brunch
This happens every Sunday over an unlimited array of mouthwatering dishes and unlimited alcohol priced at Rs 1,299 at IBAR. If you would rather skip the alcohol, indulge in unlimited food for R699
At: IBAR, Bandra (west)
Call: 9619500288

Other Links:

Nigel Slater's sausage cabbage fry recipe

Angela Hartnett's spring lamb with charlotte potatoes and broccoli recipe

Nigel Slater's tatin and shortcake recipes

Why tahini is good for you

Nigel Slater's lamb with mustard and coconut recipe

Nigel Slater's pasta with smoked salmon and peppercorn butter recipe

How to cook the perfect moussaka

Nigel Slater's colcannon recipe

Readers' recipe swap: stuffed

For the latest food news and recipes, like us on Facebook or follow us on Twitter and get the NDTV Cooks app for Android or iOS.