Mid-day, Mumbai, Modified: January 14, 2013 12:23 IST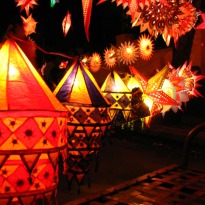 It's that time of the year when communities across the country celebrate the winter solstice, with harvest festivals. From Makar Sankranti in Maharashtra to Pongal in Tamil Nadu and Lohri in Punjab, festivities include delicious preparations to keep warm and hearty. We spoke to three torchbearers of community restaurants in the Mumbai as they reveal their unique festive delights.





Pongal >> Sakkarai Pongal

Pongal (January 14) is dedicated to the Sun god Surya, and the term Pongal refers to the boiling over of milk and rice (signifying abundance). Celebrated as a thanksgiving festival for a good harvest, the first grains are consecrated to Surya, and homes are decorated with banana and mango leaves. One of the main preparations for the occasion is Sakkarai (sweet) Pongal made from rice, lentils, cardamom, jaggery, coconut and cashew nuts. Started in 1940, Café Madras offers both Sakkarai and the Khara or Ven (with salt and ghee) Pongal. Since they are shut on Mondays, the café will offer Sakkarai Pongal on this Sunday instead (they offer Ven Pongal every Sunday). Devavrath Kamath, owner of Café Madras says, "In my family, there is a heartwarming story from my father's time when the staff cooked a feast for us at their own expense to express their gratitude. Pongal is a three-day celebration (till January 16) and in villages, it is made in a new vessel tied with turmeric leaves and it is supposed to overflow as it is considered auspicious."

At: Kamakshi Building, Kings Circle, Matunga.
Call: 24014419
Price Range: Rs 38 per plate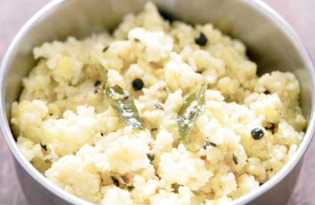 Lohri >> Makke ki Roti, Sarson Ka Saag, Gaane Ki Kheer, Palak Pakoda

Lohri (January 13) is a very popular festival celebrated in Northern India, specifically Punjab. This agricultural festival is associated with the harvesting of winter crops, and marks the end of a long, cold winter. It is celebrated by gathering around a bonfire where peanuts, rewri and other food items are thrown into the fire, as people sing and dance. Traditional dishes like Makke ki Roti and Sarson Ka Saag, Gaane Ki Kheer and Palak Ka Pakoda are prepared during Lohri. Saffron Bay, an Indian restaurant has launched a Lohri special menu to mark the celebrations and popular dishes have made their way into the menu. "Our Lohri recipes section contains a variety of traditional dishes. The festival marks the day of Uttarayan or Sun's journey towards north. The above-mentioned dishes should be served piping hot," informs Ravi Sharma of Saffron Bay.

At: Revival building, 39B, Chowpatty Seaface.
Call: 23696992
Price Range: Rs 240 for Palak Pakoda (eight pieces), Rs 220 for Gaane Ki Kheer, Rs 80 for Makke Ki Roti and Rs 280 for Sarsoon Ka Saag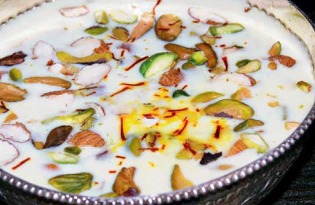 Makar Sankranti >> Satori, Gul Poli

Makar Sankranti (January 14) marks the transition of the Sun from Sagittarius or Dhanu Rashi to Capricorn or Makara Rashi, and is characterised by kite flying as an offering to the Sun. Celebrated across India, it is a major festival in Maharashtra where Til Gul (sesame laddoos) are exchanged while saying Tilgul kha god god bola (translates into eat Tilgul and talk sweetly through the year). For traditional delicacies, head to Aaswad Upahar and Mithai Gruha in Dadar (started in 1986), which offers traditional Maharashtrian delicacies. It includes Satori, made from til (sesame seeds), jaggery, cardamom, and flour. The puri-like preparation that emerges is crispy on the outside and a dollop of butter is added for taste. Aswad also serves Til Vadi (a flatter version of the Til Laddoo), Gul Poli (similar to Puran Poli but with jaggery and til), and Halwa with til and sugar. "Til and jaggery are heat-generating ingredients and a must for Sankranti, which falls in winter. During this festival, married women wear black sarees (a special colour this season) and perform the Haldi Kumkum ceremony where they exchange turmeric and vermilion. It's an important festival as it marks the start of the year," reasons Suryakant Sarjoshi, owner of Aaswad.

At: Wavda Building, LJ Road, Dadar (West).
Call: 24451871
Price Range: Rs 17 per piece of Satori, Rs 22 onwards for Gul Poli, Rs 280 per kg of Til Laddoo, Rs 320 per kg of Til Vadi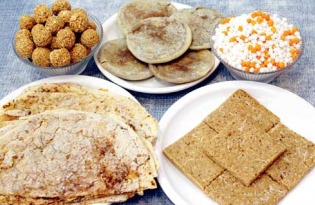 Other Links:
Good things come in small packages
It's cheesy, all right!
TripAdvisor restaurant reviews: how much can you trust them?
Beachcombed
Mumbai's fine dining Indigo comes to the capital
Perfetto! Italian and loving it
Review: Thirty Nine, Hauz Khas
Where to find the best fried fish in Goa
Foods to warm your winter
For the latest food news and recipes, like us on Facebook or follow us on Twitter and get the NDTV Cooks app for Android or iOS.